Creativorama - Find Creatives anywhere in the World.
Creativorama is an Official Nominee at Awwwards!
September, 2nd, 2012
Topics: Awwwards, Creativorama, Prestigious Award
Author: Creativorama
Great news this week! Creativorama has been accepted and nominated at Awwwards as one of the contestants for the "Site of the Day" Award. This is indeed highly prestigious and we can't honestly think of anything that could be more renown than Awwwards. We're truly glad of that.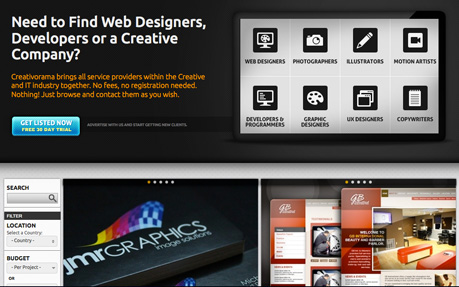 Awwwards is a very respected institution that promotes the "Site of the Day" Award. This award is intended to highlight the most edgy and innovative websites, so it's pretty obvious why we're so excited. When you have some time, please follow this link and do vote for us. We take pride of our work, and - most important - our idea.
Creativorama grows as we speak and aims to promote the best creative professionals and firms around the world. It's in fact a great place for those who need to find web designers and all professionals related to the Creative and IT industries. If you haven't listed your business here yet, do it now and take advantage of our services.
Creative Professionals
Creative Companies
Top Web Designers